Williams College
Class of 1964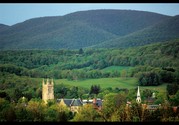 ephs64 Notes and Thoughts
Welcome to the Williams College Message Forum.
The message forum is an ongoing dialogue between classmates. There are no items, topics, subtopics, etc.
Forums work when people participate - so don't be bashful! Click the "Post Message" button to add your entry to the forum.
06/02/14 01:40 PM
#19

I missed the story in the Boston Globe and the report on NPR. Can someone share the links?

Paul Kritzer
06/02/14 11:34 PM
#20

As a Father of two daughters and Grandfather of 3 and 1/2 Granddaughters, I am very moved by Peter Hero's comments. As a member of a Higher Education Initiative at a law firm which represents many colleges and universities, I am very concerned about how this matter was handled by the College. On the one hand, Williams has to be careful not to leap to an unfair judgment as Duke University did to its men's lacrosse team in the Exotic Dancer fiasco. On the other hand, colleges and universities such as Penn State have been ignoring some of their core moral principles (such as educating students and the public in a safe environment free from sexual predators) to protect football or other teams, and colleges and universities, from bad publicity. The balancing act for Williams is taking the high moral ground while avoiding legal minefields.

On another subject, did any of you see the article in the Weekend Wall Street Journal (5/31/14, p. A11) containing the comments of former NYC Mayor Michael Bloomberg at Harvard University about students and faculty members protesting graduation speakers to such an extent that Freedom of Press and Expression have become seriously impaired. He raises the question of whether college students are receiving a proper education when only one point of view is expressed and learned . As he stated, "Requiring scholars-and commencement speakers, for that matter- to conform to certain political standards undermines the whole purpose of a university." I strongly agree with his comments. What do you think?
06/03/14 09:15 AM
#21

For Paul: a link to a WBUR analysis. http://www.wbur.org/2014/05/12/williams-sexual-assault-case

We are adding a new item to our reunion schedule. On Saturday at 1:00, Dean Sarah Bolton will meet in Griffin Hall Room 3 to talk with us about sexual policies and initiatives at the college.

Bruce - hope you can make it. Your paragraph gives us several examples of these issues at other schools. I look forward to hearing more of your thoughts and experience.

We also need to remember that Dean Bolton will talk of how Williams is addressing sexual violence on campus and the policies of the college that address it. If the policies are well thought out and effectively communicated and implemented then we can have confidence that Williams is taking the moral high ground.
06/03/14 11:02 AM
#22

Two items of particular interest:
06/11/14 08:44 AM
#23

Another short piece relevant to Rape on college campuses.

http://www.care2.com/causes/what-miss-america-got-wrong-about-college-sexual-assaults.html
06/15/14 07:24 AM
#24

Thanks John for adding to the conversation. There teems to be a problem with the link you posted.... Some of us have been directed to the XXX rated site. And at least one other just cannot get to.the article. Would be good if you might resend the link.

AS a general update... Our webmaster is recovering from an emergency operation for a burst appendix en route to Reunion. Skip was able to join us Saturday evening for the memorial service honoring the 36 classmates who have died and stay for dinner. BUT, he is still recovering and It may be a while before we get photos and the rest uploaded.

We have had a wonderful reunion with laughter, tears and just a a really nice time reconnecting.
06/16/14 09:01 AM
#25

The gist of the article is that Miss America trivialized Rape by suggesting that women just need to learn self-defense skills.

Here, again, is the link that works for me --

http://www.care2.com/causes/what-miss-america-got-wrong-about-college-sexual-assaults.html
06/16/14 09:45 AM
#26

Our long awaited reunion has come and gone. It was really great to see old friends - Rick Rosan, Paul Riecks and Dave Newbury. Old friends can pick up as if time were no barrier. And to have a chance to speak with Rich Lyon was eye opening. What an interesting guy! My loss in not knowing him 50 years ago. I am sure others have similar reactions. Can we use this forum to document our memories?
06/16/14 11:08 AM
#27

The following shortened form of the URL cited by John may work for some of you:

Note that the subject of this story is Miss USA, not Miss America (as is clear from the article itself, despite the "miss america" in the long-form URL).
06/16/14 11:33 AM
#28

I was privieged to attend the 50th Reunion and I am truly grateful to all of you for making me feel a part of the celebration and the pride. My thanks go to Dave Macpherson and Bob Furey for a magnificent job of organizing everything and to Gay Mayer for reeling me back in. Some of you asked me to post what I said at the luncheon the other day in support of a liberal arts education.

Human survival and progress has been made possible by optimism-by the belief that we are going to make it or that our idea will work. That optimism is based on our belief that the information or idea must exist somewhere that will see us through. That optimism is also sparked by exposure to the existence of a huge storehouse of knowledge based on countless years of human experience. We don't have to know it all. We can't even know it all. We just have to learn how to look for it and then go look for it. By exposing us to a variety of disciplines a liberal arts education prepares us for a lifetime of learning so that we never stop looking for what we need to know when we need to know it.
06/17/14 09:34 AM
#29

Take a look at 64 Photo Galleries. The class photos taken in the Hockey Rink have been posted already.
06/17/14 09:14 PM
#30

More pictures are on the way -- AND if you have photos you would like uploaded to the site -- please send therm to Darlene --- dja1@williams.edu

We have a few -- now i need to figure out how to get them out of the camera....

gay
06/19/14 12:02 AM
#31


I am in the midst of writing our class notes , so please send any information to me.

Mpwasserman@jhu.edu

Thanks!

Marty
01/17/16 11:16 AM
#32

As a neophyte to posting any message on the website, I am not sure I am putting this in the correct place on the website. If I am incorrect, i would appreciate anyone re-posting it properly. I have the unfortunate role of informing you of the death of our iconic classmate, and friend to many, Joel Reingold. Joel suffered a major stroke on December 18th and suffered a number of reverses since then. He passed away in the early mornig hours yesterday. His daughter, Rachel Mucahy, has arranged a gathering to remember Joel's life on January 30th from 2-5 p.m. at Sperry's Restaurant in Saratoga Springs, NY. It is located at 33-1/2 Caroline Street. If you think you will be able to attend, let me know at jfreedman@foley.com so I can advise Rachel. Obviously, feel free to share your thoughts here.
01/18/16 09:27 AM
#33

Joel

Just seeing his name

makes me smile

and he's been making me smile,

or laugh uproariously,

for more than 60 years.

Let's face it ―

most of us are ordinary ―

Oh sure, we have occasional

flashes of uniqueness,

some exceptional moments,

but, mainly, we follow

ordinary paths.

Not Joel.

No, Joel was extra-ordinary

throughout his life.

He thought

and lived

outside the box.

No way you could,

or ever would want to,

keep him in the box.

He was

brilliant

intense

zany

and always drawn

to the unusual, the unexpected,

the exciting edge of living.

As I smile, I think of him

as a blazing comet

sent to us

as a precious gift

to bring

a dazzling burst of light

into all our lives.
01/18/16 07:01 PM
#34

John - Beautifully expressed. In my prior posting, i misspelled Rachel's name. It is Rachel Mulcahy and her email is rimucahy@gmail.com. Jay
12/28/19 10:01 AM
#35

12/28/2019: Following email received from Sarah Foehl this morning. We have lost a classmate and true friend.

John died so very peacefully at 6:40 this morning. I wish I could tell you all individually but I am sure you understand. John and I had a great ride for 59 years. So many wonderful memories. So many close, special friends that we were so very lucky to have in our lives. We thank you from the bottom of our hearts for being there. We will have a celebration on Friday at 11:00. If you are able to attend I look forward to seeing you at the reception. Xxx's Sarah
02/27/20 11:32 AM
#36

The mini-reunion is on the weekend of October 2-4 (2020) with the following temporary schedule:


FRIDAY, October 2

NOON – 5:00PM Check In for weekend to pick up name tags, schedules & buttons, Lobby,'62 Center

2:00PM Tours. Classes.

3:30PM Admissions through the Years, Centerstage (or AMT), '62 Center

5:00PM Welcome Reception, Alumni Center (or Center Stage Lobby)

6:00PM All Classes Dinner, Faculty Club

8:00PM Abraham In Motion, Mainstage, '62 Center


SATURDAY, October 3

8:30-9:30AM Traveling Ephs Breakfast, The Faculty Club
9:30AM – NOON Check In for weekend to pick up name tags, schedules & buttons,

Lobby,'62 Center

10:00AM Conversation with President Maud Mandel, Mainstage, '62 Center

11:15AM Academic Lecture, Mainstage, '62 Center

NOON Home sporting events, Williams Campus

1:00PM Williams Football, The Log


5:00 Wine and Dinner for the class of '64 will be held at the

Macpherson's home: 242 North Hoosac Road, Williamstown

9:00PM Reunion Jazz Band Concert, Location TBD

These weekends have always been a wonderful time to reconnect with our classmates and find out what is new on campus. We would love to see you there, so reserve the dates on your calendar.

Bob Furey/Dave Macpherson
08/07/21 11:35 AM
#37

Hi All - -

I was thinking about the 3 books we were given for Freshman Orientation. Does anyone remember the othre 2 books besides "The Two Cultures" by C. P. Snow?

Thanks and best regards to all, John Cannon
08/08/21 11:51 AM
#38

In addition to C.P. Snow, we read W.W. Rostov The Stages of Economic Growth. I do not remember the third, but think it might have been a novel, perhaps by Virginia Woolf. As an aside, the Wikipedia entry on Rostov makes very interesting reading.
08/08/21 12:28 PM
#39

I believe that the third book was in the field of science and had something to do with the origins of the universe. Sometime tonight, the title or author might come to me...or not. I do think that it had a cover that was basically red with some orange/yellow,blackish...or not.
08/08/21 05:13 PM
#40

George Gamow, One, Two, Three...Infinity--I think.
08/08/21 05:16 PM
#41

Was "I and Thou" by Martin Buber one of those books?
08/09/21 10:33 AM
#42

I'm pretty sure the third book was The Screwtape Letters by C.S. Lewis or perhaps his Mere Christianity. One or the other.

Dick Plumer
08/09/21 12:11 PM
#43

I believe that Rob is right. Snow wrote about a split between science and the humanities so, in addition to Snow, we were given one book from each of those two areas (Rostov/humanities & Gamow/science) to emphasize the essence of a liberal arts education. However, my color memory was way off; is there any significance to the fact that the color I remembered is also the tip of the rocket?