Williams College
Class of 1964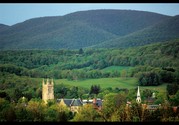 Pass the Baton to '65
The weekend of October 10-12, 2014 was Pass the Baton, a long standing tradition where we get to enshrine the class of 1965 as the new standard bearer as the new 50th Reunion Class. It is a fun event and once again a chance to reconnect with classmates and friends. It is a full weekend.
The reception and dinner in the new Reily Room on Friday evening -- Was our opportunity to thank everyone involved! Coach Navarro helped this along with Coach Aaron Kelton. The Mike Reily plaque has been moved here and we unveild his game jersey which now hangs on the wall as well. And we got to acknowledge all that Ben Wagner has done to make this possible with a framed picture of Mike and Ben which also hangs on the wall. The room is beautiful and the fall colors made it even more so.
Many of us got to tour the new Clark Art Museum with wonderful guides... Polly Macpherson and Sarah Foehl. The new building is spectacular and the exhibit featuring one of four copies of the Magna Carta was an extra treat.
Many of us got to visit the new Sawyer/Stetson library; now in full use. Pretty nice but it helped to have Chamber of Commerce Fall weather.
Photos to follow when I figure out how to upload them!
gay