Williams College
Class of 1964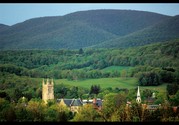 In Memory
Davis Taylor
Hi John - You are handling so well the most difficult part of your Presidency of our class. I am sorry to be adding to this for you. Perhaps you have already heard, but if you had not, I knew you would wish to. Davis Taylor was such a marvelous, gentle soul. He was also an absolutely superb poet. Some of his finest work came as he, with such beautiful, life-giving awareness, made his journey with the cancer that came on less than a year after our reunion. The obituary his wife Becky McDowell includes here is so faithful to Davis' wonderful spirit.
Best to you, John, and with gratitude for the presence you are being for the rest of us ...
Steve (Doughty)
Yesterday afternoon, Davis' body gave up his spirit and set it free. Paul, Sam, and Alicia were able to be here last weekend and Paul was able to stay on through Davis' leaving, all of which was very important to both Davis and me. I'm pasting Davis' obituary below, which gives info on the memorial service planned for Saturday, October 15.
Many, many thanks to all of you for your support through this journey, and much love to you all.
Becky
Davis Taylor
October 13, 1942 - September 8, 2016
On September 8, 2016 the spirit of Davis Taylor left his body to be welcomed into the arms of his Beloved Avatar Meher Baba. A lifelong spiritual seeker, Davis was a student of numerous spiritual traditions and a member of many spiritual communities before finding God in Meher Baba. He found his life purpose in writing poetry to his Beloved.
Davis was born October 13, 1942 to James A. and Edith Davis Taylor of West Hartford, CT. He graduated from Deerfield Academy in 1960 and Williams College in 1964. He was awarded a Rhodes Scholarship and studied English Literature at Pembroke College, Oxford University from 1964 to 1966. Davis earned his Ph.D in English Language and Literature from Yale University in 1969, and was awarded a Danforth Scholarship.
Davis was a professor of English Literature at Carleton College in Northfield, MN from 1969 to 1984. In 1984 Davis received an M.A. in Counseling Psychology from the College of St. Thomas and began practicing as a psychologist. Davis was granted Rosen Method Practitioner certification in 1998, and added Rosen Method body-centered therapy to his counseling practice. He worked as an individual and family therapist in Faribault, Northfield, and Minneapolis/St. Paul, MN and the Chequamegon Bay, WI area. He touched many lives with his insightful, respectful, and caring therapies.
Davis was married to Ana Ortiz de Montellano from 1968 until her passing in 2000. He married Rebecca McDowell in 2001. Davis was a dedicated husband, father, and friend. He was generous with his wisdom, and he used his playful sense of humor to help people in all situations feel at ease and connected to him. He exuded empathy, gentleness, and love. He enjoyed playing games with family and friends and especially enjoyed winning.
Davis had a lifelong love of nature. Canoeing, camping, and sailing were favorite activities when he was a camper and then counselor at Camp Keewaydin and Camp Lanakila. His sons had the opportunity to share these loves on family trips to the Boundary Waters Canoe Area. He greatly enjoyed living in the Chequamegon Bay area with Becky in their homes in Ashland, Herbster, and Bayfield, surrounded by good friends and natural beauty.
Davis was a poet for most of his life, and made that his full-time passion in his later years. He has published four books of poetry, with three more to be published in the near future.
Davis is survived by his wife, Rebecca McDowell of Bayfield, WI; sons Paul Taylor (Christy Chan) of Berkeley, CA and Sam Taylor (Alicia) of West Branch, IA; stepsons Kirk McDowell-Shafer of Kansas City, MO and Benjamin McDowell-Shafer of Minneapolis, MN; and siblings James Taylor (Lenore Peterson) of Anacortes, WA, Susan (Philip) Smith of Williamstown, MA, and Nancy Taylor-Roberts of Manchester, MA; and numerous nieces and nephews. He was preceded in death by his parents and his first wife, Ana.
A memorial service will be held on Saturday, October 15 at 10:30 a.m. at the Historic Herbster Gym with lunch following. Memorial gifts may be made to Regional Hospice Services (1913 Beaser Avenue, Ashland, WI 54806) and the Meher Spiritual Center (10200 N Kings Hwy, Myrtle Beach, SC 29572.)