Williams College
Class of 1964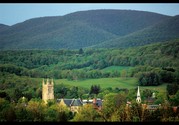 In Memory
Peter Smith VIEW PROFILE
The survivor of an avalanche that claimed 7 of his comrads at age 13, and of the Viet Nam War, where he served in the special forces 1966-1968, Peter devoted his life to making the world a better place. Peter loved the outdoors. In 1970 he took a solo 500 mile trip down the Chruchill River and in 1971 scaled every preak on the Teton Range.
Drawn to the land and a simpler lifestyle, he worked for a farmer in Vermont where he met his wife, Susan. They cultivated the land and sold from its bounty. Living this lifestyle, they met and later joined the Amish as they raised their seven children. Peter's deep desire to help the poor drew him to 3rd world countries. He spent 2000-2003 and 2011-2012 in Nicaragua helping the compesinos.
He lived steadily as one who desired to implant in his children and those who knew him a respect for the land and a heart for the oppressed.
(These notes are from the bulletin shared at the time of Peter's funeral. The Bulletin also included the words, "If we are worried about what people think of us, look down the social ladder and not up.")
Click here to see Peter's last Profile entry.