Williams College
Class of 1964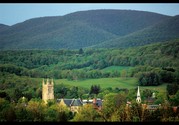 In Memory
Joel Reingold
Obituary for Joel E. Reingold
Joel Edward Reingold, 73, of Saratoga Springs passed peacefully on January 16. He was the devoted husband to wife Erna, who pre-deceased him, son of Harold and Thelma Reingold, brother to Michael, who pre-deceased him, and Richard.

A 1964 graduate of Williams College, and former correspondent for Time Magazine, he was a marvelous writer. He continued to write later in life, most passionately to many who knew him, about Irish Jump Racing. A man of myriad interests, he was a voracious reader and insatiably curious.

A gifted listener, and extraordinary friend, he is survived by daughter and son-in-law Rachel and Brian Mulcahy, brother Richard, and many like minded souls; including Jay Freedman, Rory Whelan, and Michael Michalisin. In lieu of flowers the family requests donations be made to the Permanently Disabled Jockeys Fund.
The Saratogian (NY) January 19, 2016
From Jay Freedman, January 18, 2016
Hope all is well. I am very sad to report that Joel Reingold died in the early hours of yesterday (1/16/16). Joel suffered a major stroke on December 18th. Further complications arose and he was simply not able to recover sufficiently to even start any rehab efforts. I visited him on his third day in the hospital in Albany and Steve Birrell and John Foehl came over from Williamstown several days later.
His daughter, Rachel Mulcahy, has arranged a gathering to remember Joel and share stories at Sperry's Restaurant at 33-1/2 Caroline Street in Saratoga (NY) from 2 p.m. – 5 p.m. on January 30th.
If anyone thinks they might be able to attend on the 30th, it would be helpful to Rachel to know. People could write me at jfreedman@foley.com and let me know.
Many thanks., Jay
Joel
(by John Cannon 1/18/2016)
Just seeing his name
makes me smile
and he's been making me smile,
or laugh uproariously,
for more than 60 years.
Let's face it ―
most of us are ordinary ―
Oh sure, we have occasional
flashes of uniqueness,
some exceptional moments,
but, mainly, we follow
ordinary paths.
Not Joel.
No, Joel was extra-ordinary
throughout his life.
He thought
and lived
outside the box.
No way you could,
or ever would want to,
keep him in the box.
He was
brilliant
intense
zany
and always drawn
to the unusual, the unexpected,
the exciting edge of living.
As I smile, I think of him
as a blazing comet
sent to us
as a precious gift
to bring
a dazzling burst of light
into all our lives.
From John Foehl
January 25, 2015
Dear classmates, As most of you have heard by now, another '64 member has died. Not a good way to start 2016. Joel Reingold passed away on Jan. 16. Joel suffered a stroke in Dec. and could not make a recovery. He came to Williams in the fall of 1960 from Newton, MA. Joel loved hockey among other things like horse racing. There's a strange combination! I played hockey with "Joey"( I used to call him that) all four years. We were what the kids call today BFF. Joel was married to Bennington grad Erna Crown. Erna died about seven years ago. They have a daughter, Rachel, who lives in NYC. Joel was living in Saratoga, NY, but told me he didn't go to the track much because it was too crowded. A life well remembered.
All the best wishes for a happy and healthy 2016, John