Williams College
Class of 1964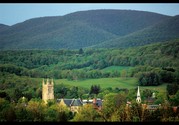 In Memory
Barry James
4-8-19
Hi John (Foehl),
You may have heard, but in case not, I have to report the passing of another classmate: Barry James. I am attaching his Duluth, MN obit. I do not have more details because I was not notified earlier by family. Of all things, I found out at my church which Barry did not attend, but which his parents had been involved with many years ago. Am trying to get more information. Nick Goodhue wisely suggested I pass this along to you, so I have decided not to wait longer.
Hope all goes well with you and the rest of the class. Am looking forward to seeing you in June!
Jack (Kuehn)
---
Barry Rees James, 76, of Duluth, Minnesota passed away on Sunday, March 31, 2019, at St. Luke's Hospital, with family by his side.
Barry was born on April 28, 1942 to Byron and Anna Mae (Rees) James in York, PA. He graduated from Wayzata High School in Wayzata, MN in 1960. He studied mathematics at Williams College, graduating summa cum laude in 1964, and earned a Ph.D. in statistics from the University of California, Berkeley in 1971. At Berkeley, he met the love of his life, Kang Ling, and they were married in 1972. They both taught at the Instituto de Matematica Pura e Aplicada in Rio de Janeiro until 1987, at which time they both joined the faculty of the Department of Mathematics at the University of Minnesota Duluth. Barry held various positions there, including department head and Director of Graduate Studies, and was well loved and respected by hundreds of students. He and Kang retired from the department in 2016.
Barry was well known for his gentle, kind, inquiring and compassionate soul. He is lovingly remembered by his nieces and nephews, some of whom were at his side through his illness, and all of whom will miss their dear Uncle Barry very much.

Barry was preceded in death by his parents. He is survived by his wife, Kang Ling James; sister, Sally (Pete) Hassemer of Phoenix, AZ; and brother, Daniel (Elizabeth) James of Telluride, CO. He is also survived by Kang's siblings Su Ling (Hua-tsun) Lee of Pittsburgh, PA; Ta-Yung (Marjorie) Ling of Coeur d'Alene, ID; Jane (Bobby) Ling of Taipei, Taiwan; and Helen (Mike) Ho of Palos Verdes Estates, CA. Nieces and nephews are Scot Jones, David Jones, Tara James, Amy Hlavacek, Albert Lee, Maggie Kley, Lita Martinez, Benjamin Ling, Alan Ling, Theresa Ling, Mike Ho, and Jill Ling. He leaves behind cherished friends and colleagues.
A private burial will take place in Minneapolis. A celebration of Barry's life will be held on April 13, 2019, 5-7 pm, at the Tweed Museum of Art, UMD, 1201 Ordean Court, Duluth. A special thank you to the ICU staff at St. Luke's.
Duluth News Tribune, April 7, 2019