Williams College
Class of 1964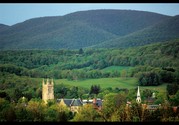 In Memory
Samuel Brown
The following was sent to us with the notification of Sam's death.
Samuel C Brown, Jr., a resident of Saratoga Springs, passed away after a lifetime with two chronic illnesses.
Mr. Brown, as he preferred to be called, was born in Boston in 1943. He graduated with honors from Williams College and earned an M.A.T. degree from Smith College.
Health problems caused him to be disenrolled from U.S. Navy Officer Candidate School, and to turn from teaching to his hobbies from childhood, writing and cartooning. Thereafter he worked at home, keeping house and raising his son while his wife, Isabel, pursued a teaching career as a member of the dance faculty of Skidmore College.
Mr. Brown served for seven years as local liaison for the PBS Channel 17 Auction, nine years as a member of the city's Zoning Board of Appeals, and three years as a leader of the boys' Urban 4-H Program. He also spent 18 years as a route driver for Home Delivered Meals, 20 years on the Board of Directors of Pine Island Camp (a boys' camp in Maine), and 10 years as class cartoonist for his college class.
He is survived by his wife of 55 years, Isabel Harper Brown, of Saratoga Springs; his son, Eugene S. Brown, of Redondo Beach, CA; his brother, Andrew P. Brown, of Palm Springs, FL; his sister, Susan W. Brown, of Rowley, MA; one nephew, two nieces, two great nieces, and six great nephews.
Memorial gifts may be made to Mr. Brown's favorite charity, Covenant House, a refuge for homeless and abused children: P.O. Box 731, New York, NY 10108.